I love offering my readers free stuff. It's like a huge hug for coming to my site! Lately I've been setting records for the amount of traffic I'm getting, and then breaking it a day or so later. Last month I was blown away when I got 402 visitors in one day. Then it was 500. Yesterday over 830 people came to my site and I think my mouth is still hanging open? My New Years resolution is to stay dedicated to this site. Hopefully it can open up tons of new opportunities for me in the future. Anyway..on to the free stuff!
I got this idea from another site and I really wanted to make some. Not only were they simple to make, they are easy for you guys to assemble! I know, because I did it twice. On a scale of "easy to screen protectors" (does anyone else have TONS of trouble getting those on your phone..straight & with little bubble-age?) I'd say these were easy.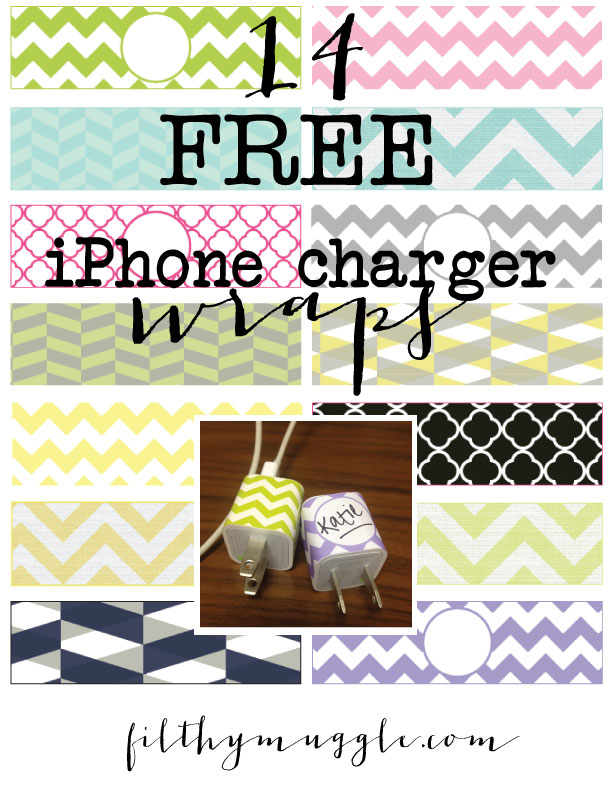 iPhone charger wraps! They are so cute and easy to put on. I printed mine on sticky paper that I had left over from some other project.  You can get paper like this all over, probably even at WalMart. After that, you simple cut out, and stick on.
If you selected one with a customizable center, start from the MIDDLE when applying. Line up the center where you want it, and press. Then, take turns wrapping each side. This makes sure that the center is correctly aligned and you don't look like a doofus with a sweet wrap that just happens to be really off-center. Also, I'd suggest writing on it before applying. 🙂
If you DON'T HAVE STICKY PAPER and want to use them anyway..no problem 🙂 I printed a sheet out on regular printer paper, cut one out, and used 2 small pieces of tape to stick it on. Roll the 2 pieces of tape in a circle, put 1 on the front of charger and stick the middle of the wrap to the tape. Apply second piece of rolled tape to the back, wrap each side around and stick to tape. The purple wrap in the picture is stuck on this way, and you can't even tell. All adhesive paper will remove differently, so if you are scared to stick it to your charger you may want to try this method.
Woohoo! A sweet customizable wrap with your name/mean message on it. You don't have to stick with your name, get creative! Maybe "THIS IS MINE" is more your style. Either way, there will be no denying which charger is yours from now on. Perfect for the pesky brother/boyfriend who can't keep their paws off your stuff!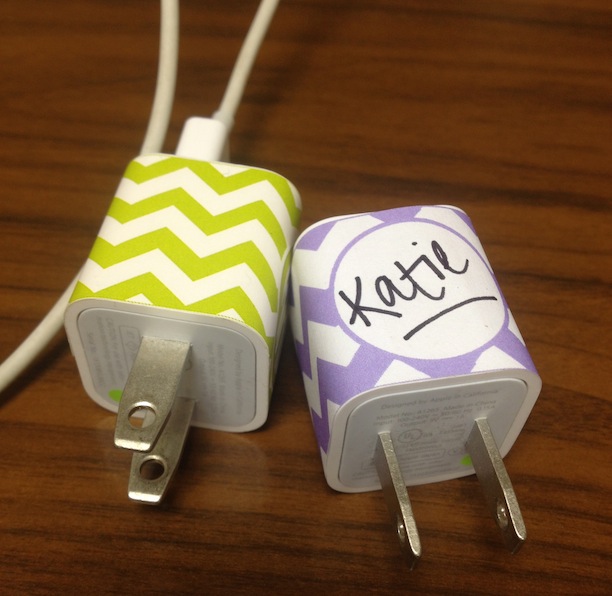 Download the printable HERE.